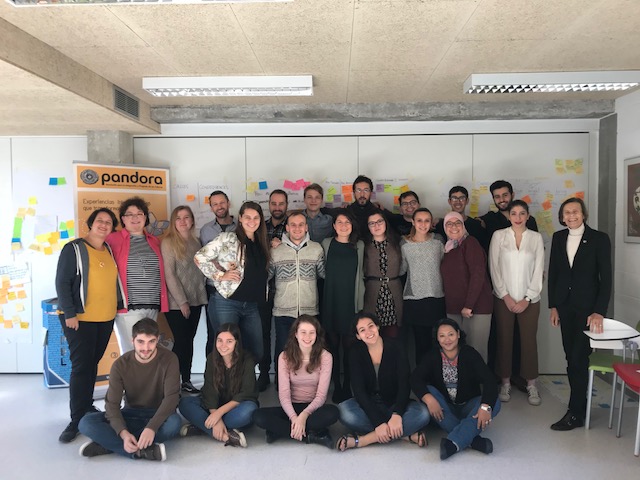 Patricia Apostolescu and Andreea Saraolu represented FCASEC at Global Youth Forum organised by AIPC Pandora in Madrid.
Youth workers get ready to facilitate the Changemaker Process in their organizations. They become familiar with changemaking concepts, methodologies and curriculum, implementation processes and
facilitator's skills.
CHANGE MAKER PROCESS HAS 7 STEPS
1. ME AS A CHANGEMAKER
We begin by looking at ourselves, our personal qualities and the journey that got us here. We connect to others and to the ideas of changemaking.
2. DISCOVERING CHALLENGES IN MY COMMUNITY
We look around us and share and discuss issues we care about, heart breaks and things that need to change. Mostly,we listen and pick ourfight!
3. IDEAS, INNOVATION & CREATIVITY
We explore our creativity through innovation techniques to generate collective ideas for change. We put our talents and passions at the heart of it and choose an idea that makes our heart dance!
4. THE PROJECT
We turn ideas into projects by writing it down!And while we are at it we develop our idea, make it grow by adding all the dimensions a project should have: goals, activities, resources, team, budget and more…
5. ACTION!
A plan without a deadline is… bad! Here we decide: what, when, how, who and we go do it! We will be going back and forth to the written project to adjust the plan!
6. TELL EVERYONE
This is the time we share and celebrate with all of our community the hard work, the success and learnings of our project.Storytelling and communication will be trained!
7. REFLECTIONS & LEARNING
During the whole process we will be giving and receiving feedback and self-assessing each step. At the end, we will look at it and see how much we have learned and decide how to continue in our changemaker path.