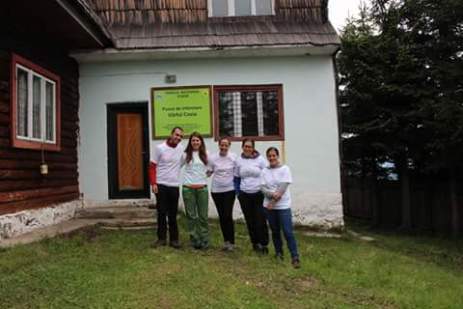 Go For Green" Project is a follow up of another voluntary project, "Greenthinkers". "Go Green" projects adds value to "Greenthinkers" project through the fact that in the project activities are involved rural rroma communities from Inatesti, Simbotin, Racovita and Caineni. Another novelty will be the realization of greening campaigns and of promoting the promenade area of Capela hill (situated in Rm valcea city). Not least, the project will ensure the visibility of Erasmus+ program and there will be organized information sessions and seminars for young people regarding the opportunities of participation to Erasmus+ program.
The specific objectives of the project are:
– to promote "green behaviors" among the 6 volunteers and in the local communities involved in the project activities
– to increase the transnational mobilities among the young people with fewer opportunities by the direct involvement in the project activities of 6 volunteers with fewer opportunities and by promoting the Erasmus+ program
– to promote the non formal education among the young people with fewer opportunities, mainly young people from rural rroma communities
– to develop entrepreneurial competences among the participants to the project
– to develop a lasting partnership between the partner organizations, partnership which will promote examples of good practices in voluntary field specific to environment protection
In this project will participate 6 volunteers with fewer opportunities, in equal numbers both girls and boys. The six volunteers are coming from Italy, Spain, Germany, Turkey, Portugal and Poland.
The main activities of the project will be:
– Initiating environmental education workshops in schools from rural areas.
– Greening activities in Cozia National Park and Capela Hill from Rm. Valcea
– Implementing a media campaign on environmental protection.
For the project implementation it was approved in the partnership a methodology emphasizing the active involvement of volunteers, local community involvement and the use of non-formal education methods.
The main results of the project will be:
– Innovative voluntary stage for 6 volunteers with fewer opportunities in the field of environment protection, which will serve as a model for solving environmental problems.
– Brochure about Cozia National Park and Capela hill from Rm.Valcea, brochure which will include photographs, maps of tourist routes, description.
– Project website and Facebook page.
– Good practice guide regarding the initiation and implementation of media campaigns on environmental issues.
The project impact will focus on acquiring "green behavior" by the young people involved in the project and the local communities. On long term, there will be a continuous exchange of information and didactic practices on organizing voluntary activities to protect the environment and promote the environmental education.