"Green Rivers" is a voluntary project that aims to continue to another dimension, the voluntary activities implemented by FCASEC Association since 2008, in the field of environmental protection and environmental education among young people.
Also, "Green Rivers" will valorize another voluntary project implemented by FCASEC in Dragasani community during 2013-2014 (see www.thinkgreen.voluntarpentrunatura.eu).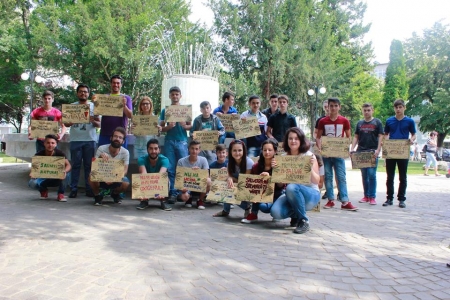 The specific objectives of the project are:
– participation of 6 volunteers with fewer opportunities to voluntary activities of environment protection.
– acquisition by the 6 volunteers of skills specific to involvement in environmental education and environmental protection, competencies that will lead to their personal and professional development and their reintegration in the labor market and in the future.
– promoting the intercultural learning among volunteers.
– development of new monitoring tools used in the reinforced mentorship for the 6 volunteers.
– transfer of good didactic practices between partners in the field of environmental education and environment protection
– establishment of a strategic partnership at the project level which on the future will initiate new EVS projects but also projects of nobilities and strategic youth projects.
"Green Rivers" is a group EVS project, which will involve six volunteers aged 22 to 26 years, equal numbers of boys and girls, all young people with fewer opportunities.
The main activities of the project will focus on environmental education workshops in schools from rural areas, creative recycling workshops, seminars on information on Erasmus + program and environmental protection in rural communities, ecological activities of Dragasani city bordering rivers and organizing media campaigns in the support of environmental education and environmental protection, organizing public debates on measures of identifying and solving environmental problems.
Throughout the project will be used different methods of non-formal education as: debates, forum theater, living library, flah-mob, photo-voice.
The main results of the project will be:
-innovative voluntary stage in the field of environment protection, stage that will serve as example of good practices
– strengthening the institutional capacity of partners that will make a permanent exchange of good practices on project topic.
– promotion of "green behavior" among the local communities from the south of Valcea County
– Facebook and web page of the project
– manual of initiation in media campaigns
– brochure with flora and fauna specific to the rivers Olt, Pesceana and Mamu
– creative recycling workshops
"Green Rivers" produce impact both on the local community which will discover the importance of protecting the environment and on volunteers who will learn that it is important to get involved in solving environmental problems, fact that will help them to develop both personally and professionally and to overcome the situation of fewer opportunities.
On long term, the project will contribute to organize creative recycling workshops in the communities of the partners, to change the mentality of the local communities on environmental issues.